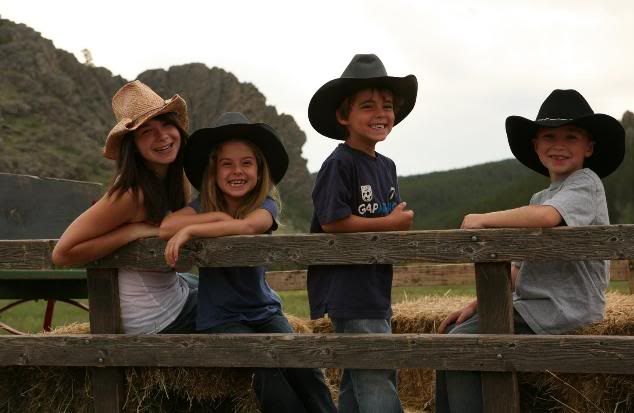 Looking for fun vacation options that include the kids? With the short attention spans and endless energy, finding vacation options to keep kids engaged can be challenging. If this is your situation, it doesn't mean that you have to resign yourself to years of harried vacations spent with cranky kids and an even crankier spouse. You can still enjoy a vacation with the kids – as long as you know where to go, and a guest ranch would be an ideal choice for these kinds of situations. There is plenty for kids to do at a guest ranch.
Guest Ranches Are Not Your Typical Vacation
There are many advantages to taking your family on a guest ranch vacation instead of a amusement park or beach. At a guest ranch you won't have to worry about long line ups. You don't have to drive around to look for restaurants that aren't full, or start your day early just so that you can beat the rush of the crowd. Guest ranches offer a laidback lifestyle, and offer all fun activities right in one place, so you don't have to continuously hurry from one place to another.
Fun Activities That Your Kids Can Enjoy
Guest ranches may be laid back, but that relaxed but the laid back atmosphere does not immediately translate to boring. There are plenty of fun activities to do at the ranches, and there's certainly something that your child will enjoy. Here are some fun activities to keep your kids preoccupied and happy throughout the whole stay.
Horseback Riding – Horseback riding is a popular ranch activity, and is available for everyone
Fishing – Your kids can fish along with you, or there might be organized mini – fishing activities for children.
Nature Trekking – Teach your kids to appreciate nature by going on a nature trek. A guest ranch should have plenty of nature trails available, and there should be ones that are suitable for kids.
Arts and Crafts or Cooking Classes – Most guest ranches offer free fun classes for children, and these classes or sessions usually involve arts or crafts projects or cooking. Activities like these allow your kids to meet other children, socialize and enjoy.
Campfires and Cookouts – At night, you and your kids can have fun at campfires. Tell stories, sing songs, roast marshmallows or even enjoy a thick juicy burger over the fire under the night sky.
Wildlife Watching – Guest ranches are usually situated near forests, lakes and other natural environments, so they are very likely to have some friendly and not-so-friendly animal neighbors. Kids will certainly enjoy bird and wildlife watching or petting the friendlier ones at the ranch's petting zoo.
Sports – Most guest ranches have sports facilities such as tennis courts, basketball courts, pools and the like where kids can play games and have fun with new found friends. Younger children should be able to enjoy as well, since guest ranches also have play facilities such as slides, monkey bars, sandboxes and see-saws.
Children's Programs – Your guest ranch of choice may also have supervised children's programs. Supervised programs may involve some of the activities mentioned above, or may also include a number of other activities. Letting your kids join a supervised program for an afternoon gives you some time off to be alone with your spouse. With trained counselors and fun activities to offer, you don't have to feel guilty if you wander around and enjoy the rest of the guest ranch, or catch up on some R and R while getting a back massage.
Kids really do have short attention spans, so what better way to keep them preoccupied than providing them with one activity after another right in one place? A guest ranch allows you to relax, unwind and enjoy the slow pace of life even with your kids around. So, if you're planning a trip with kids and you want this time to be a successful one, then make sure you're going on a guest ranch vacation.
Ranchseeker can help you plan your next guest ranch vacation by providing valuable information on guest ranches in North America