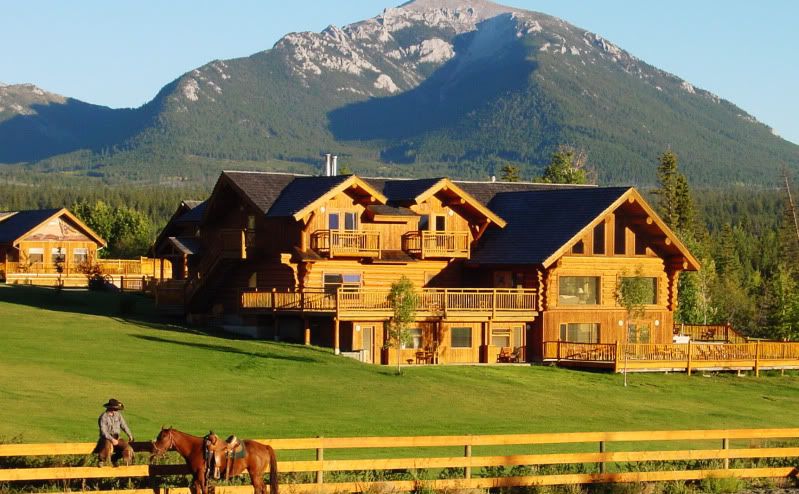 If you think dude ranch vacations are about "roughing it", you are wrong. While you can definitely get that kind of authentic Wild West experience if you vacation at a working ranch there are also many luxury dude ranch vacation options for those who enjoy being pampered and the finer things in life. Luxury ranches often include very modern accommodations and facilities which may surprise you.
Luxury Dude Ranch Vacation Accommodations
So what type of accommodations and amenities can you expect on a luxury dude ranch vacation? You might be surprised that many of the luxury dude ranches have luxury accommodations that still retain the rustic charm of the Wild West. Many luxury dude ranches have private cabins that comfortably sleep 5 or more making it ideal for family vacations. Some luxury dude ranches are also pet-friendly so you can bring your lovable pet too. Need some alone time? Find a luxury dude ranch that is adult oriented. You will be pleasantly surprised to find there are many luxury dude ranch accommodations available than the cowboy of old ever dreamed of!
Luxury Dude Ranch Amenities
The amenities and services provided at a luxury dude ranch will often rival those of a luxury hotel or resort. Many luxury dude ranches have conference services, team building, gourmet meals, organic foods, a full-service spa, massage and maid service just to name a few. The chefs are usually professionally trained and the cuisine offered may range from continental, international, spa, vegetarian and of course casual ranch food.
Luxury Ranch Activities
Besides the usual activities found on a ranch vacation such as horseback riding, hiking, fly fishing etc..many luxury dude ranches will offer some less "Western" activities. Some luxury dude ranches will have tennis courts, golf courses, putting greens or even an equestrian center. If you are a ski buff, some ranches are close to the mountains.,
As you can see there are many options activities available for guests vacationing at a luxury dude ranch. You can choose to do all or none of the activities available. If you prefer to simply relax, enjoy the magnificent view and catch up with friends you will still have a ranch vacation to remember.
Find a luxury ranch for your upcoming vacation using Ranchseeker's dude ranch directory. It's free and easy to use.