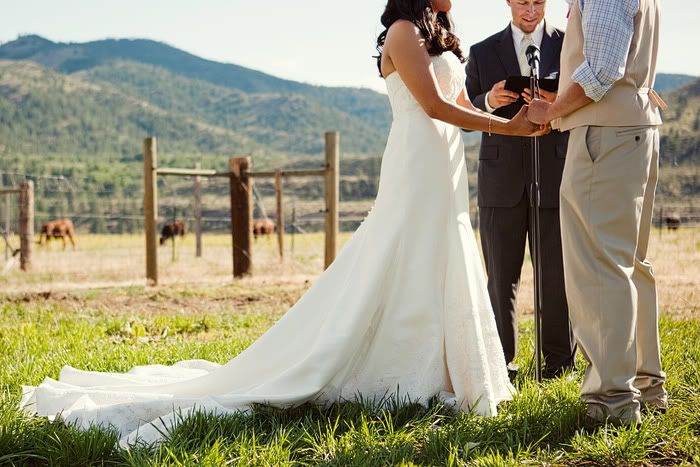 Everyone is unique and so should everyone's wedding. Some have dreams of their wedding ceremony being held on a beach at sunset, on the deck of a cruise ship, on top of a mountain, in a garden, or at a ranch. There are also some people who want something really unique for their wedding day.
Do folks have ranch weddings? Yes, they do. Think you are the only person who has imagined a ranch wedding? The answer is no. A lot of guest ranches are capable of accommodating big occasions including a wedding - so your dream of a options for the ranch wedding. They might supply an indoor building, such as a barn, for the reception or the reception can also be held outdoors (perhaps under tents in case of inclement climate).
So what makes a ranch wedding unique and special? Well, perhaps it's the many features that aren't available at other venues. Couples may have the option of riding a horse to their wedding ceremony or having their wedding ceremony conducted on horseback. They may have the option of arriving at their ranch wedding ceremony in a horse-drawn wagon. The reception can be a barbeque with galvanized washtubs filled with beverages, a band playing country music, and hay bales sitting around the dance floor for people to sit and rest. The men and/or women attending the wedding and reception can wear jeans, cowboy boots, hats, and bolo ties instead of formal attire.
Also a unique feature is that most guest ranches are located in the wilderness so you will have a spectacular natural backdrop for your ranch wedding.Think of your spectacular wedding photos shot amongst this landscape!
Ranch weddings are special and memorable to not only the bride and groom but to everyone in attendance – so consider a ranch wedding to commemorate that special day when you begin your life as a man and wife.
Find a guest ranch perfect for your ranch wedding using the Ranchseeker ranch directory.