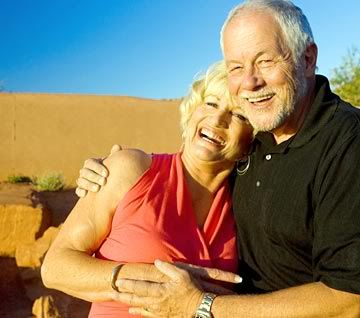 As the baby boomers age, more of the world's population are becoming seniors. Seniors also enjoy vacations but their interests may differ as they age. As a result, senior vacation ideas will most likely differ from vacation ideas for other age groups. Today, guest ranches are adapting their vacation packages, facilities and choice of activities for the benefit and enjoyment of their senior guests.
Modern guest ranches are becoming better equipped to accommodate senior vacations in some of the world's most beautiful, natural settings. Many guest ranches offer a wide array of activities suitable for seniors such as spa treatments, yoga classes, early morning walks or golf.
Today's active seniors often have a bucket list and a desire to experience as many diverse vacations as possible and guest ranches are an exciting option. What senior wouldn't like to have a taste of 'life on the range' in safe and comfortable surroundings?
Guest Ranch Facilities for Senior Vacations
From luxury country club-style guest ranch resorts to simpler guest ranches, there are a wide range of guest ranches available for senior vacations. No matter what type of guest ranch you select, they will all have in common extremely welcoming hosts, usually the hard-working owners, and a mission to ensure that every guest at the ranch feels pampered and special.
Guest ranches may have some of the following features of particular appeal to seniors on vacation:
Main lodge rooms
Well-equipped private cabins
Heated indoor/outdoor swimming pools
Hot tubs on outside decks
Games room
Fine dining and fine wines
Trained chefs or dieticians for special diets
Extensive spa services
Tennis courtsGolf course on grounds or one that is easily accessible
Guest Ranch Activities
Almost every guest ranch today is able to offer various daily and night time activities for senior vacationers in addition to horse-back riding. A guest can be fully occupied each day, without ever getting close to a horse, except to feed it an apple or watch the horses come home every evening. Some guest ranches offer health and wellness programs designed to encourage a healthier diet and approach to life, along with yoga and exercise classes to suit most fitness levels.
Some of the day guest ranch activities suitable for seniors may include:
Bicycling
Hiking
Golf and tennis
Swimming
Canoeing and kayaking
Fly fishing in mountain streams
Skeet shooting
Sight-seeing trips to neighbouring towns
Local flora and fauna photography excursions
Daytime workshops
Some of the nightly guest ranch activities seniors may enjoy include:
Card and board games
Billiards
Movies
Barbecues and camp fire sing-songs
Live shows by local performers
Cocktail hours
Casual socializing with other guests
Seniors Group Stays At A Guest Ranch
Many seniors prefer the company of their peers when on vacation and many guest ranches are happy to accommodate group stays and any specific requirements for the group. Contact your preferred guest ranch about coordinating a senior group vacation and many will be happy to create a custom vacation for you. Day and night time guest ranch activities can also be tailored to meet the needs of senior groups in keeping with fitness levels and communal interests.
Guest Ranches for Seniors
In conclusion, guest ranch vacations can be richly rewarding and beneficial for active seniors. An opportunity to explore a different kind of outdoor vacation and yet have every need catered to very comfortably. Whether accompanied by family or part of a senior group, a senior vacation is a chance to expand social horizons in the safe and convivial environment of a guest ranch. Great times and friendships are sure to remain treasured memories long after the guest ranch vacation is over.
To assist you or your group to book the perfect ranch, Ranchseeker's ranch search engine is just a click away to help get you started.