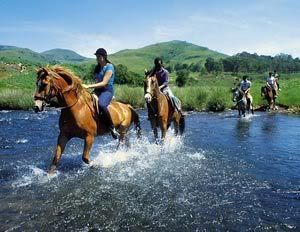 Because of its extraordinary range of vistas, vegetation, wildlife and environment, and its rich history and culture, South Africa is usually regarded as "a world in one country,". This is the very reason why horseback riding vacations in South Africa are so popular. A nation of diverse cultures, the country has been carefully crafted by its people into a stable land, in the aspects of economy and politics, and an awe-inspiring home. Naturally gifted with vast and well-preserved terrains, South Africa offers a wide array of quaint and captivating horseback riding trails and destinations. Whether you saunter by the vineyards, jog along the sea shore, take on an invigorating journey through the far-reaching savannah, or wander off the splendid countryside, the choice is yours to make. If you want a touch of romance, some places may allow you to take on horseback moonlit rides during full moon. If you feel like hunting, only drag hunts are offered.
If you are seeking an adventurous horseback riding vacation South Africa would bean ideal choice for you. There is no better way to experience the extraordinary outdoors but through horseback riding vacations in South Africa.
Why Go On Horseback Riding Vacations?
For starters you can simply head off to South Africa without an itinerary and start deciding what to do and what to see from there. However, if you want a hassle – free and relaxing vacation that's still fun and exciting at the same time, then horseback riding vacations in South Africa is a great choice. Spending your vacation in a ranch gives you access to plenty of activities and exciting things that should keep you preoccupied for the whole length of your stay.
What to Expect on Horseback Riding Vacations?
There are many options of activities during horseback riding vacations in South Africa. Like horseback riding vacations in any other country it's natural to expect the typical activities such as horseback riding, hiking, trekking, campfires, fishing and the like. However, what makes it different is that you're in an entirely different country and continent
Are There Really Horseback Riding Vacations in South Africa?
South Africa attracts millions of vacation goers each year, and tourism is quite strong there. Because of this factor, different attractions and fun venues are available for vacation goers, and they are not just limited to beaches and nightlife options. There are natural reserves, animal reserves and ranches all over the country where you can experience horseback riding vacations in South Africa. A little research on the internet should lead you to websites of ranches and safaris offering this kind of exciting vacation for you!
With such a wide array of choices of places to go to and explore for your horseback riding vacations in South Africa, and with all the activities to accompany you ranging from trails, to multi-day treks, to viewing of exciting big games, to relishing the view of wildlife in the flesh, South Africa will surely keep your adrenaline rush coming from day one!
Ranchseeker has South Africa ranches to start your search. Simply use our easy dude ranch search engine.