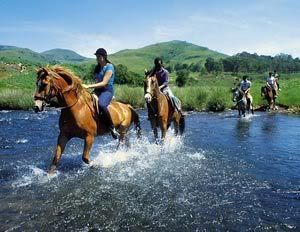 There are some important considerations you need to make before spending your hard-earned money on horseback riding holidays. One important decision is the type of horseback riding holiday you prefer. This is, in fact, one of the first questions you need to ask yourself in planning your holiday. You may want to choose from the following four basic horseback riding holiday categories:
1. Riding Holiday – This type of horseback riding holidays doesn't involve too much planning or special packing. It basically consists of some great riding, good food, wine, and a relaxing time away from your normal routines. You may call for reservations on Monday and be on your holiday on Saturday.
2. Safari on Horseback – Horseback riding holidays in Africa can also be a spectacular experience. It's almost impossible to beat the amazing experience of watching a herd of giraffe as your horse grazes on an open field or the wonder of coming face-to-face with an elephant. Beginners can choose safari horseback riding holidays in areas where no dangerous game are present. Safaris where there's a chance of encountering lions, buffalos, or elephants are advised only for experienced riders.
3. Ranch Holiday – This type of horseback riding holidays allows you to live out your dream of living on a ranch and entering the world of John Wayne even for just a few days. You may choose to go to a working ranch where you can be a cowboy or a guest ranch with stunning scenery.
4. Riding Expedition – Being a journey on horseback, this type of horseback riding holidays may entail a few hardships. However, the unforgettable experience you'll get and the scenery you'll be able to view are surely more than enough rewards for the hardship. If you choose this type of horseback riding holidays, you'll have to pack the appropriate clothing and make sure that you're fit enough for the expedition.
Make your choice of horseback riding holidays by asking yourself if you're the type of person who needs a shower and a comfortable bed each night or if you're more interested in sleeping under the stars. Are you excited by the idea of riding out to a new destination each day or would you rather ride out from and return to your base? The answer to these questions will help you determine which type of horseback riding holidays is the best for you.
Even if you're travelling alone, horseback riding can still be the perfect holiday for you. That's because a common love of horses and the outdoors often gets people together and can even help you build new friendships. Just make sure to choose a trip that matches both your expectations and your riding ability. Find out exactly how many hours you'll have to spend on the saddle and what kind of terrain you'll be riding in. You may also want to check what other people are saying about a particular trip you're considering.
If you're concerned about your overall physical fitness, then it's best to choose horseback riding holidays that aren't too physically demanding. It's a holiday after all, so you should be able to enjoy it. And if safety is a concern (as it should be), then the best option would be to book your trip through a riding holiday tour specialist. You can also use the Ranchseeker dude ranch search engine to research your horseback riding holidays too.