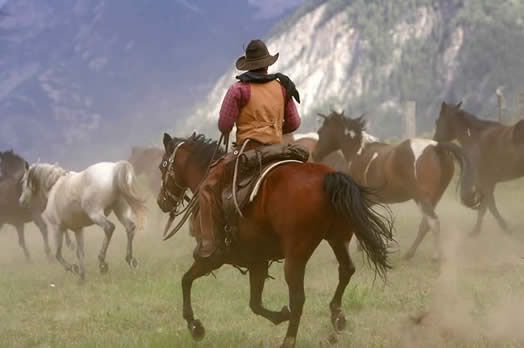 In the early 20th century, movies, TV shows, and comic books created such romanticized views of the American West that Americans living on the Eastern hemisphere began travelling west in hopes of experiencing at least a little of what life in the "Old West" was like. Soon after that, some entrepreneurial farm owners began offering vacation packages that promised to give travellers an "authentic" ranching experience. The travellers then began to be called "dudes" and then ranches started getting known as "dude ranches."
So, what Is a dude ranch? Today, a "dude ranch" simply is a ranch who acts as lodging with paying guests. The most common reason for people visiting these ranches is to bask in the beauty of these undeveloped regions and enjoy the adventure of learning new things, such as ranching and its related activities. In the past, ranch owners offered food and lodging free of charge, as a sign of hospitality to travellers passing their way. However, as more and more Easterners began going west for the sole purpose of visiting ranches, the ranch owners finally seized the opportunity to earn additional income. Dude ranches have come a long way and today there are many different types of ranches.
Basic or Riding Dude Ranch
The main focus of your experience in this type of ranch is horseback riding. If you don't have previous horseback riding experience, you'll be given appropriate riding instruction before you're allowed to go on horseback trail rides. You're also likely to be taught about lassoing and moving cattle at a horseback riding ranch.
Working Dude Ranch
On working ranches, you're likely to be taught how to work with cattle or help in sheep operations. You can expect horseback riding to be limited to activities that are directly related to livestock work. This is by far the most authentic of all ranch experiences, so you should be prepared to do some heavy hands-on work while you're there. You may even be made to assist in herding cattle or muck out a stall.
Resort Dude Ranch
This type of ranch is more luxurious and upscale, and typically focuses on relaxation with a wide range of other activities, including horseback riding, sing-along, and possibly hunting. The lodging, meals, and entertainment provided in these ranches are often similar to the ones you'd normally find on cruise ships.
These luxury ranches are typically larger than dude ranches and offer more activities as well as more modernized facilities.
The wide variety of dude ranches makes it all the more important for you to carefully think about the kind of experience you want to have before you actually make your reservations. You may even want to draw up a list of the activities you want to engage in during your vacation to make it easier for you to find a ranch that meets all of your expectations. In general, ranch vacation rates tend to be higher in the summer months, so you may want to schedule your own vacation during the fall or early winter months. This not only helps you get lower rates, but also provides you with a more intimate experience.
When you are ready to find the perfect dude ranch for your ulimate dude ranch vacation, use Ranchseeker's dude ranch search engine.