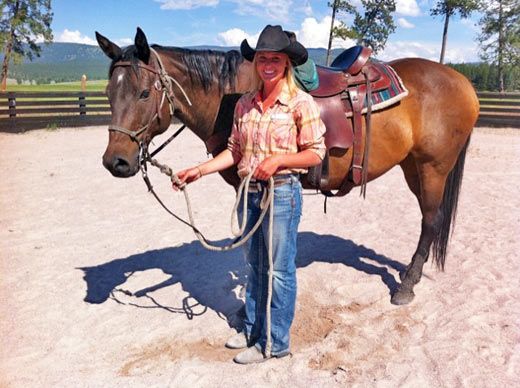 You've had hangouts with the girls over coffee or perhaps inside a spa or beauty salon. But what if you could take your bonding to a higher level by going on a cowgirl girlfriend getaway? Cowgirl holidays have become more and more popular over the years – allowing women and girls to experience experience the outdoors, while getting pampered at the same time.
What Is A Cowgirl Girlfriend Getaway?
Cowgirl getaways are basically guest ranch vacations – the only difference is that they cater to girls or women visitors. The experience is pretty much the same, with similar types of accommodations and activities. The accommodations are set in a ranch, and the activities revolve around ranch tasks and outdoor experiences such as horseback riding, working the cattle, trekking, hiking, fishing, camping and the like.
What makes cowgirl girlfriend getaway venues different though, is that they pay specific focus to their clientele. With the guests being women, you can also expect other services such as fitness, relaxation, beauty and pampering.
With that, what makes a cowgirl girlfriend getaway a good vacation idea, and why should you try this over a typical beach vacation with the girls?
Everything Is There
What is great about going on a cowgirl girlfriend getaway is that you do not need to leave the venue to have fun. Everything is there in one place. You have outdoor excursions, nightly activities, beauty and pampering services and more. You also do not have to worry about food during your cowgirl girlfriend getaway, because the ranches serve excellent food to their guests.
Many cowgirl girlfriend getaways come in packages, so you do not have to plan anything at all. Likewise, having everything in one place reduces the need for commute – or bickering when it comes to deciding which place to have lunch or what to do next.
Experience The Outdoors
Cowgirl girlfriend getaways mean more than just lounging around the pool. The amenities and services allow you to actually experience the outdoors and get your hands dirty.
If you want the real Western tradition, then you can try horseback riding, roundups, team penning and trail riding. Aside from ranch-related activities, you can also have other forms of outdoor fun by the water or through outdoor sports. Many ranches are built near creeks and lakes, allowing visitors to have fun fishing, boating, tubing, canoeing and kayaking. Likewise, many of these ranches also have sports facilities where you can play tennis or badminton or volleyball.
Beauty and Pampering
Cowgirl ranches are different from the typical guest ranches because they understand their clientele. Women and girls need more than just fun and adventure. At the end of the day, girls enjoy beautifying themselves and pampering, which is why they are also fitted with hot pools and spas amenities so you can enjoy massages, facial treatments, body wraps and the like.
Indeed, a cowgirl girlfriend getaway is something completely different from your typical vacation – but it is nevertheless an excellent choice. If you want fun, adventure, entertainment and relaxation all at the same time and place, this is the choice for you.
When you are ready to go on a cowgirl girlfriend getaway use the Ranchseeker dude ranch search engine to find the perfect dude ranch for your holiday.