You haven't experienced the beauty of a dude ranch until you've stayed there for the winter. Not only do you get to enjoy different activities such as snowshoeing and riding in the snow, you can also appreciate the colder season while snuggled up in front of a roaring fire in a log cabin. If you haven't made plans for the upcoming winter vacations just yet, why not take advantage of one of the following offers at popular dude ranches?
Tod Mountain Ranch
Tod Mountain Ranch is one of the Top 50 Ranches due to its relaxing environment, exciting horseback riding program, fresh food with a ranch twist, and comfortable accommodation. This winter, the British Columbia dude ranch offers winter group rates, making it a great option for private retreats and family reunions. You can enjoy all the ranch's facilities, including eight cabins that are large enough to accommodate 24 people, a fully equipped commercial kitchen, a commercial BBQ grill, and outdoor fire pit. You can also head to the nearby Sun Peaks Ski Resort to enjoy different winter activities before relaxing at the ranch in the evening.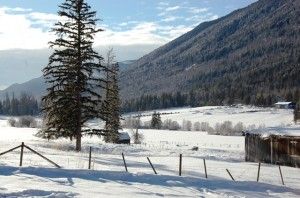 Offer Cost and Validity: Between Dec 1, 2014 and Dec 22, 2014 (CA$1,000 per night); between Dec 23, 2014 and Jan 02, 2015 (CA$1,250 per night); between Jan 03, 2015 and Mar 31, 2015 (CA$1,000).
Big Bar Ranch
Another British Columbia dude ranch, Big Bar Guest Ranch is in the center of historic cattle country. Famous for traditional hospitality, western way of life and ranch cooking, the ranch invites you, your family and pets to enjoy the magic snow adds to the surroundings. During day, you can enjoy skating on the pond, ice fishing, skiing or trekking with snowshoes. Later, you can step into the warmth of one of the cabins and enjoy a cup of cocoa. If you're at the ranch on Christmas and New Year's Eve, you can celebrate with a big family mal and fireworks respectively.
Offer Cost and Validity: Cabin rentals are CA$150 per night, X-Country Ski Pass costs CA$25 per stay, and trail rides are CA$65 per person per ride.
Echo Valley Ranch and Spa
Nestled in the mountains of British Columbia, Echo Valley Ranch has won TripAdvisor's Travelers' Choice and a World Boutique Hotel Award in 2014 alone. If you're interested in being part of this winter wonderland, you can enjoy one of three offers. With the Winter Ranch Vacation Getaway, you can enjoy a warm welcome with a glass of champagne or milled wine, comfy rooms, daily guided snowshoeing walks, ice fishing, Thai yoga stretching classes, and authentic Thai banquets in the evening among many other perks. On the other hand, if you plan on being part of the Christmas Long Weekend Getaway, you will get four nights at a room or cabin, a traditional five-course Christmas meal, a visit from Santa with a special gift, and a Boxing Day Champagne breakfast. Your package also includes the highlights of the Winter Vacation Getaway such as ice fishing and Thai yoga.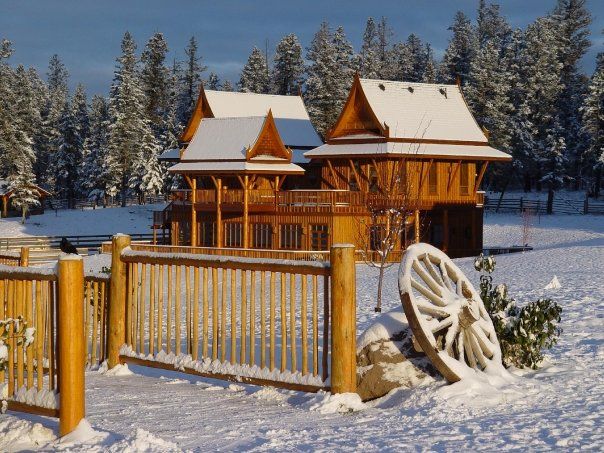 Finally, you can avail the Magical New Year's Getaway, which comes with four nights lodging, dinner and a champagne toast, New Year's brunch, gourmet meals throughout your stay, tobogganing on the nearby hills, and much more. You're welcome to add other winter activities to your package, such as guided snowshoeing, snow mobile rental, and spa treatments.
Offer Cost and Validity: Winter Ranch Vacation Getaway – between Dec 12, 2014 and Jan 05, 2015 costing CA$210 minimum; Christmas Long Weekend Getaway – between Dec 24 and 28, 2014 costing CA$790 minimum; and Magical New Year's Getaway – between Dec 31 and Jan 04,2015 costing $790 minimum.
Lone Mountain Ranch
If you're spending your holidays in Montana, drop by the Lone Mountain Ranch to experience authentic dude ranch hospitality, chef-prepared meals, comfortable accommodations, and guided adventures. By spending your winter holidays, you can explore 85 km of groomed Nordic trails and 30 km of snowshoe trails. The ranch also offers an old fashioned sleigh ride dinner and entertainment at its saloon. In addition, you can take your pick from different winter packages such as the Sleigh and Stay Package or Romance Package. You can also avail the limited time offer where you get a free night if you reserve six or more nights through Winter Discovery packages. However, book your cabin quickly by calling or emailing the ranch
Offer Cost and Validity: Between Dec 20, 2014 and Jan 04, 2015 for $360 minimum per person per night.
White Stallion Ranch
For over 50 years, White Stallion Ranch has offered a traditional dude ranch experience combined with luxurious amenities and the best views you can enjoy from a saddle. If you're visiting this ranch in winter, you can opt for the December Special 2014. You can opt for the four nights-five days package or seven nights-eight days one depending on how long you want to stay. Depending on the dates you pick, you can enjoy a steak cookout, Indian Oven dinner, an all-day ride through the Saguaro National Monument, and other equally entertaining evening programs.
Offer Cost and Validity: Between Nov 30, 2014 and Dec 18, 2014 for $669 minimum per person for the four nights-five days package or $1,115 minimum per person for the seven nights-eight days package.
The Sugar & Spice Ranch
Exclusively for mothers and daughters who want to bond while bunking in a real bunkhouse, Texas-based The Sugar and Spice Ranch offers a fun winter special called Christmas Break Mother/Daughter Package. The package provides you with two horseback riding lessons a day on a horse that you yourself will feed, groom and tack. In addition, mother and daughter duo can enjoy New Year Eve's fireworks display.
Offer Cost and Validity: Between Dec 27, 2014 and Jan 02, 2015 for $2,199 per mother and daughter set
Rancho Los Banos Adventure Guest Ranch
Located in Sonora, Mexico, Rancho Los Banos (or Ranch of the Springs) is a 30,000 acre adventure guest and cattle ranch where you can enjoy hiking, trekking, bird watching, kayaking and wildlife spotting. If you plan to head there in winter, you'll discover what makes backcountry riding here worth mentioning in the Guardian and Telegraph.
Offer Cost and Validity: Between Dec 01 and 22, 2014 and Jan 06 and 28,2015 at a nightly, per guest rate of $165.
So which of these offers do you intend to avail for your winter vacation?